Forest Grass

- The Best Artificial Grass Manufacturer You Are Looking For!
1. Professional in artificial grass and grass yarn area for over 16 years.
2. Professional consultant teams and grass artificial installation Support.
3. NINE Tufting Machines and Nine production lines to ensure stable daily output.
4. Producing yarn by ourself, Best quality & price at source.
5. ODM and OEM Provided; Forestgrass available from 6mm to 70mm! Any color, any density we can replicate for you.
6. Artificial grass sales are more than Five Million sqm in 2017.
7. Free artificial grass samples for quality check.
Learn more about Forestgrass, you can also visit our company web: http://dasenlin.en.made-in-china.com
International Exhibition in USA, Saudi Arabia, 2017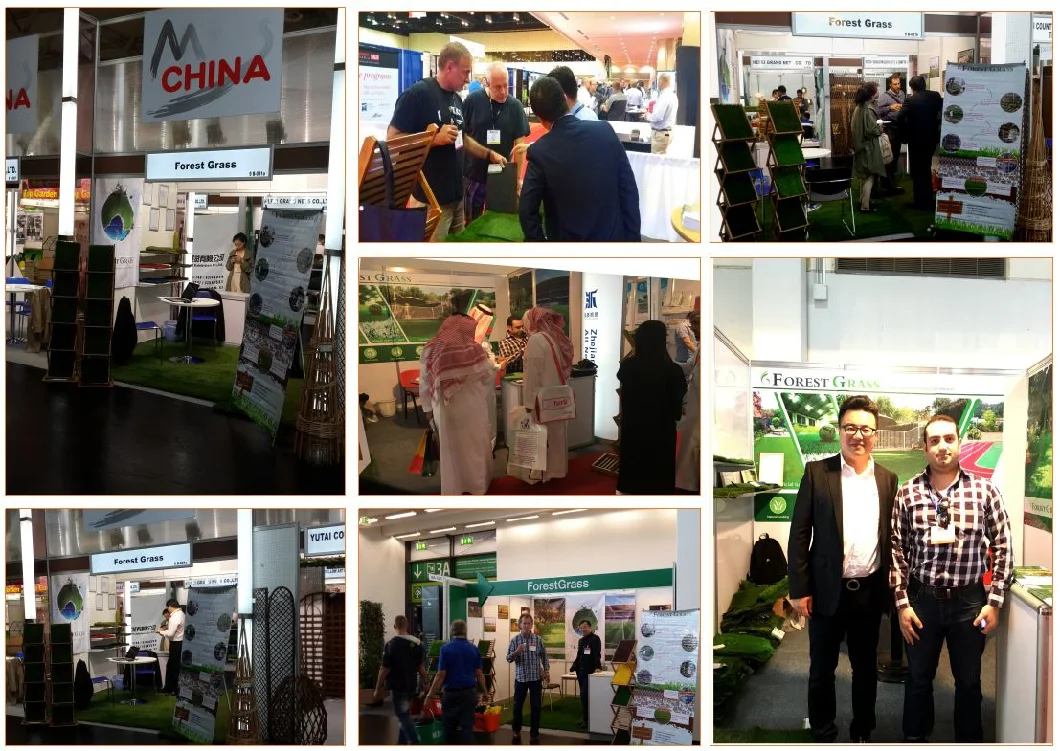 Prodcut Description
Low maintenance artificial grass golf putting greens for home gardens are in demand as the interest in golf throughout the world continues to rise. ForestGrass is committed to providing you with high quality short-game practice facilities. The workmanship and design skills of our experienced design are well respected and appreciated by our many customers.
These greens are designed keeping in mind all aspects of shot-making in golf. They can be used all year round and require very little maintenance. Golfers can expect to enjoy their game on a surface where the green sustains its color, shape and putting roll every time it is used
Product Spec.
| | |
| --- | --- |
| Mode | GFE |
| Yarn count | 5000DTEX±4% |
| Yarn Material | PE |
| Yarn thickness(μm) | 70 |
| Color | GREEN |
| Color fastness | DIN 54004 7 grade |
| U/V indicators | DIN 53387 ≥6000 hr |
| Yarn height | 10~15mm(0.59inch)±1% |
| Gauge (inch) | 3/16 |
| Stitches rate per 10cm (cross direction) | 26±1nr |
| Tufts density (tufts/sq.m) | 56000 |
| Yarn weight(g/sq.m) | 800 |
| Material (weight) of basic cloth (g/sq.m) | 100g PP single backing cloth+80g nonwoven cloth ±8% |
| Material of glue | Latex compound with a base of styrene-butadiene |
| Weight of glue (g/sq.m) | 1150±10% |
| Diameter of air holes (mm) | 3~5±1mm |
| Amount of air holes (/sq.m) | 30~90(according to the customers' requirements) |
| Production process (DIN 6115) | Tufting |
| Total weight (g/sq.m) | 2100±5% |
| Roll length | 25m(82feet) |
| Roll width | 4m, 13FT or 15FT |
| Application | leisure grounds (ex:backyard mini golf, artificial putting green turf, artificial turf for homes, artificial turf garden etc.) |
Features:
1. Applied for Golf grass, Golf field, sport, landscaping, garden, decoration
2. Feels and Looks like the green grass
3. Multipurpose, comfortable, environmental, durable and long lasting, safety
4. Good rebound resillence, excellent sports performance.
5. Good water permeability
6. Easy installation and maintenance.
7. Approved by FIH, SGS, TUV, GreenGuard, Fire-retardant, ISO9001, ISO14001 etc.,
Golf grass installed in Nicaragua, USA, Korea etc.,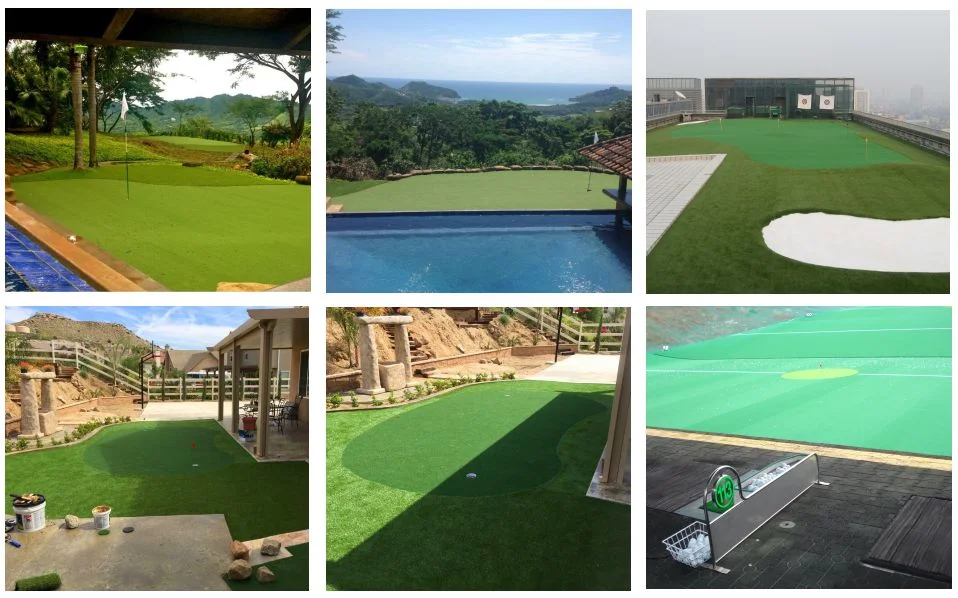 Our Production Lines:
We have advanced & professional production lines in the world which are able to produce various artificial grass yarns and artificial grass carpets ranged from
10mm-70mm pile height, 1m-4m width with tufting gauge of 3/4", 5/8",3/8",5/16",3/16",5/32".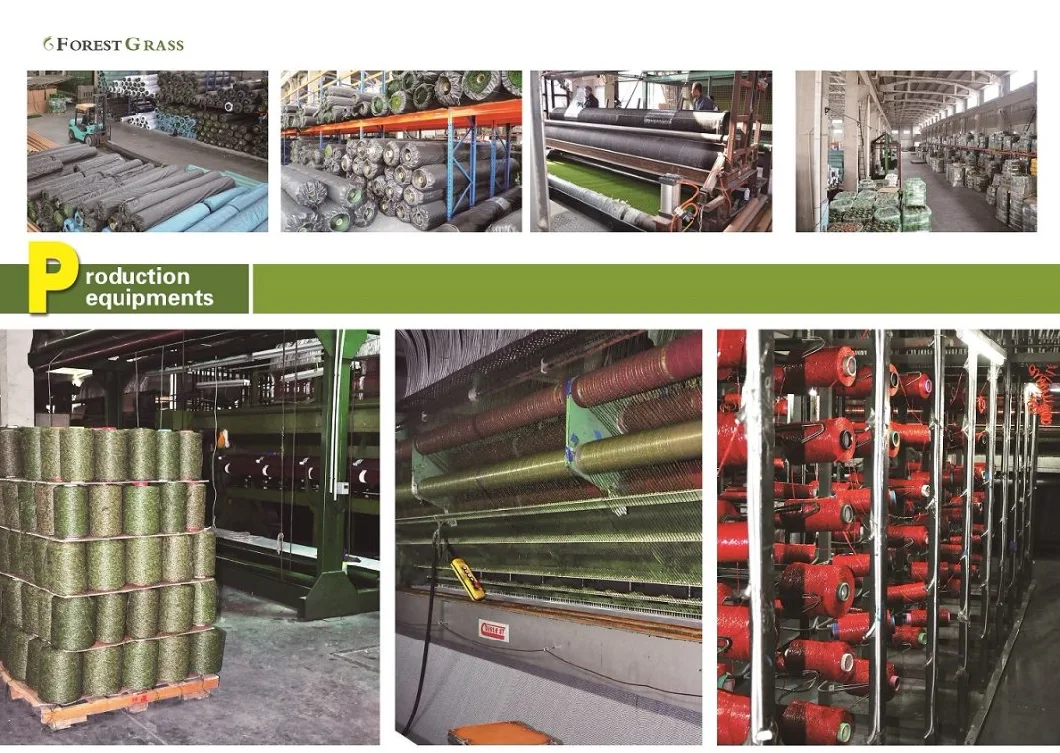 Package&Shippment:
1. The packing must be rolled on the cardboard core tightly and neatly. In this way, grass can keep good shape during the transportation, won't be wrinkled or damaged.




2. Packed in roll - coverd with PE film or PP bag outside, color can be customised.




3. Roll wideth can be 4m/ 2m/ 1m, length can be 20m-70m according to different grass, our regular roll size is 4m x 25m (100sqm) and 2

m x 25m (50sqm)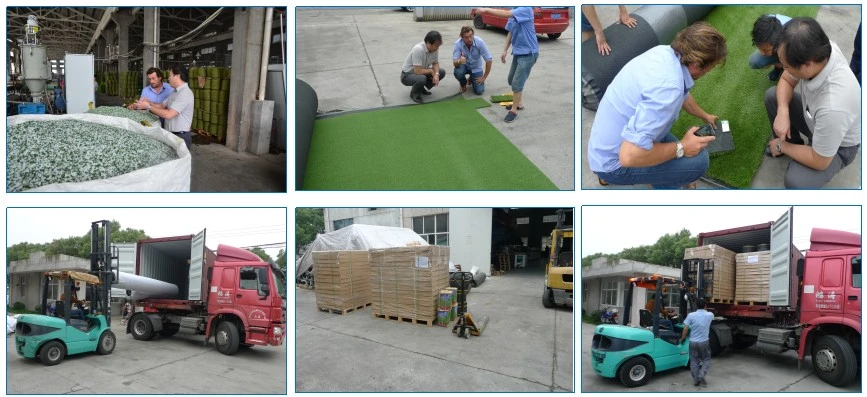 How to install the grass
?
Prepare Natural Ground for Artificial Turf ( If on cement floor, please start from 2)


1.Remove any existing grass with a flat shovel or turf cutter.
2.Compact the ground with a vibrating plate compactor.
3.Lay a non-woven cloth over the ground.
Lay the Artificial Grass
4.Cut the roll of artificial turf into lengths that fit the shape of your yard.
5.Lay the turf over the area in its permanent place. Make sure adjoining seams fit together without any visible gaps, but do not overlap them.
6.Cut the edges of the artificial turf to fit the edges of the lawn. Use a utility knife to cut the grass from its underside.
Adhere the Joints
7.Peel back the joints between the artificial grass strips along their length. Reveal enough of the underlying ground to fit the joint tape with an inch or two to spare on each side.
8.Lay the joint tape in the gap you have created so that, when laid, the seam between the two adjacent strips of artificial turf will run down its middle.
9.Paint the joint tape with the glue.
10.Lay the edges of the adjoining artificial grass pieces over the joint tape and adhesive so that they are in their original and permanent position. Weigh the joint down with sandbags.
11.Repeat for each of the joints in the turf.
Options for Adhering the Edges of the Artificial Grass
12.Nail down the edges of artificial turf on natural ground.
13.Apply the joint tape around the edges of artificial turf laid over concrete. (See step 10)
Spread the Infill (If Required)
14.Spread the recommended amount of infill evenly over the artificial grass.
15.Rake the infill over the artificial turf to work it underneath the surface.
16.Allow it to settle overnight.
17.Spread and rake in more infill if necessary, until the space between the sub layer and the bottom of the artificial grass is filled.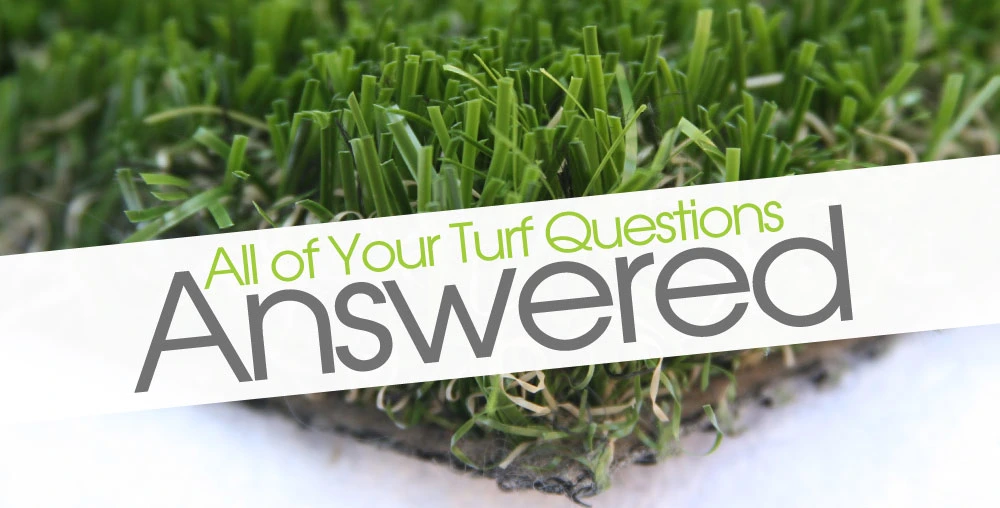 FAQ:
1,Where can I use this grass ?
A: Artificial grass is multifunctional, it can be used for sports like football, golf , soccer, futsal ... as well as landscaping, garden, balcony, school ....ect, you can use it as real grass to decorate anythere you want. For different usage, pls ask us freely for suitable recommendation.

2,How many years warranty I can get ?
A: It various from 5 to 10years for different quality level, we will take care of any problems during the warranty.

3, Why there are so many different pile height and how should i make choice ?
Pile is the term for the upright blades on synthetic turf. These can be cut at different heights (e.g. 40-
50-60 mm) according to different usages. Usually for football/soccer/futsal grass, we recommend with
45mm-60mm height; for landscaping grass and garden grass, 25mm-40mm; for wedding for some one-off
usage, 10mm. If you are not sure which type of grass to choose, contact us now and discuss your artificial grass needs.

4,MOQ and Loading infomation .
A:MOQ is 500 sqm, but trial order is also no problem for starting .
For 20GP - load approx 2200-2600sqm artificial landscaping grass, 4000sqm artificial football grass .
For 40HQ - load approx 4600-5000sqm landscaping grass, 7500sqm football grass.
Loading quantity is decided by grass specifications and packing ways.

5,Is it difficult to install artificial grass/synthetic grass/artifical turf ?
A:It's quite easy, we can provide you with full set accessories and professional guidance.
Just let us know if you need it !

More High quality artificial grass for your choice:



Model:GFN(Yarn Content: Nylon) Model:GFP(Yarn Content: PP) Model:GFE(Yarn Content: PE)

Contact us, you will get more information within 20 hours!!!