The features:
1) Applied for landscaping, garden, residential, kids playgroud carpet, swimming pool ground, wall decoration, roof, high way greening, multi-functional
2) Feels and Looks like the real grass
3) Safty, soft, comfortable, environmental, durable
4) Perfect skin protection, free of harmful materials
5) Constructed with drainage to have good water permeability
6) No watering or mowing, no fertiliser required
7) No need for pets control, eco-environment
8) Easy installation and maintanance
9) Conformity of Fire-Retardant, Greenguard, Anti-UV, Anti-Toxic, Anti-Heavey Metal, RoHs, SVHCs, ISO9001, ISO14001

Technical Specifications:
Grass Mode

Luxury Series- MSD

Application

leisure playgrounds(ex: garden and others)

Yarn count

12000DTEX±4%

Yarn content

PE monofilament yarn+PE curled yarn

Yarn thickness(μm)

100

Color

4 Tones

Color fastness

DIN 54004 7 grade

U/V indicators

DIN 53387 ≥6000 hr

Yarn height

30,35,40mm(1.6")±1%

Gauge (inch)

3/8

Stitches rate per 10cm (cross direction)

16±1nr

Tufts density (tufts/sq.m)

12598,13648,14698,15748,16798

Yarn weight(g/sq.m)

1570

Material (weight) of basic cloth (g/sq.m)

100g PP single backing cloth+120g net cloth ±8%

Material of glue

Latex compound with a base of styrene-butadiene

Weight of glue (g/sq.m)

1150±10%

Diameter of air holes (mm)

3~5±1mm

Amount of air holes (/sq.m)

30~90

Drainage Rate

32" per hour

Production process (DIN 6115)

Tufting+ KTK for curl

Total weight (g/sq.m)

2920±5%

Roll length

25m(82FT)

Roll width

4m 3m 2m; 13 FT or 15FT

Lead Time

10~14 working days after receipting your payment down

MOQ

500 SQM

Loading

For 20GP - load approx 2200-2600sqm artificial landscaping grass.
For 40HQ - load approx 4600-5000sqm landscaping grass.

Forest Grass - The Best Artificial Grass Manufacturer You Are Looking For!
1. Professional in artificial grass and grass yarn area for over 16 years.
2. Professional Consultant Teams and installation support.
3. NINE Tufting Machines and Nine production lines to ensure stable daily output.
4. Producing yarn by ourself, Best quality & price at source.
5. ODM and OEM Provided; Forestgrass available from 6mm to 70mm! Any color, any density we can replicate for you.
6. Artificial grass sales are Five Million sqm in 2017.
7. Free artificial grass samples for quality check.

2017 International Exhibition in USA, Saudi Arabia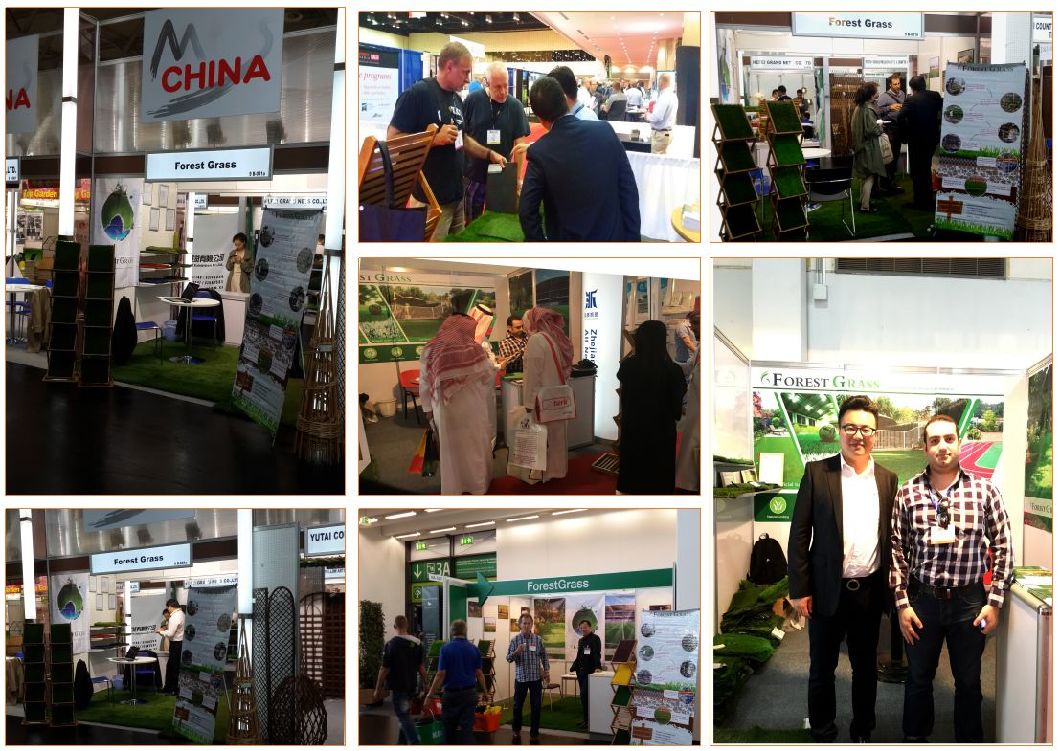 As a artificial grass manufacturer, we Forestgrass have the dealer, contributor, contractor that we have been cooperating with all the time. They have a robust business in synthetic grass industry with our support.

We do not neglect every customer, no matter whether you have any experience in the artificial grass industry or not. There is no worry for you.

With Forestgrass, you are worthy to have best quality, professional teams and competitive price, which fit to the demand of dynamic and changeable market.

Since the beginning of the company's establishment, we are always trying to simplify our clients' procurement links, and then they have more energy to develop your own market. Actually we made it.

Let's work together to achieve the future, to achieve a win-win situation. So, contact us now to discuss your grass artificial needs.
Feedback from our clients:
Restaurant in Taiwan, Kids Playgroud Carpet in South Africa, Courtyard in CA, USA etc.,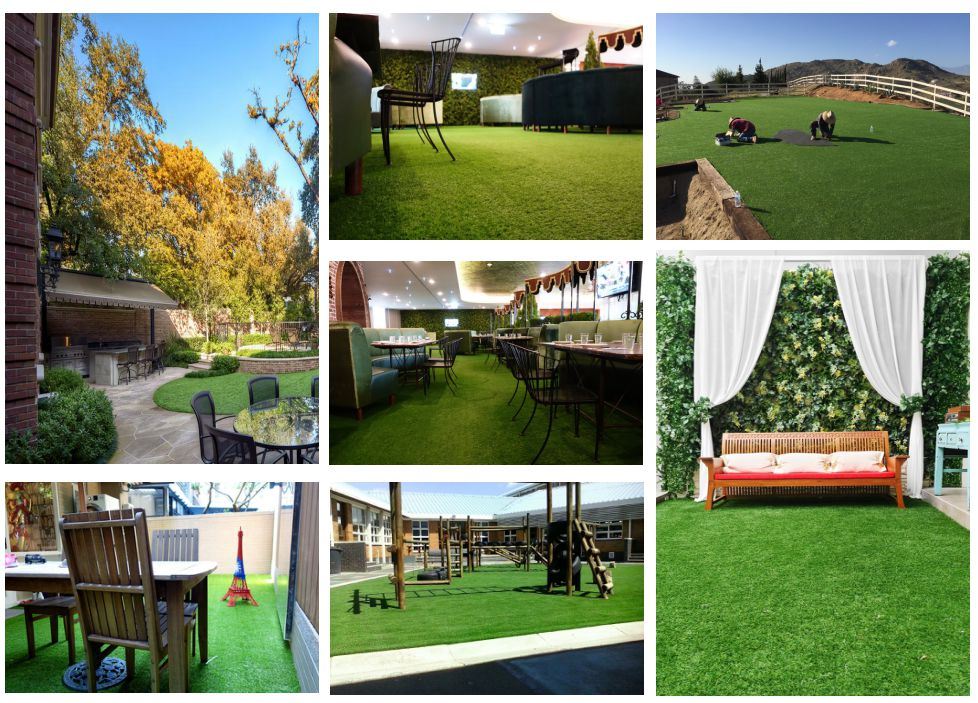 Artificial Grass Landscape Installed in Villa District of Riverside, CA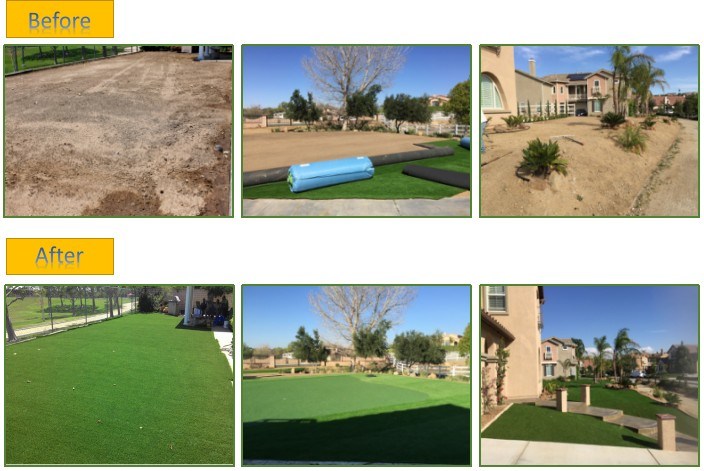 How to install the grass?
Prepare Natural Ground for Artificial Turf
Lay the Artificial Grass
Adhere the Joints
Options for Adhering the Edges of the Artificial Grass
Spread the Infill (If Required)

When considering of your grass artificial installation, we could provide the best solutions for you, contact us.
Our Production lines:
We have advanced & professional production lines in the world with NINE Tufting Machines and TWO artificial grass yarns factories, which are able to produce various artificial grass yarns and artificial grass carpets ranged from 10mm-70mm pile height, 1m-4m width with tufting gauge of 3/4", 5/8",3/8",5/16",3/16",5/32".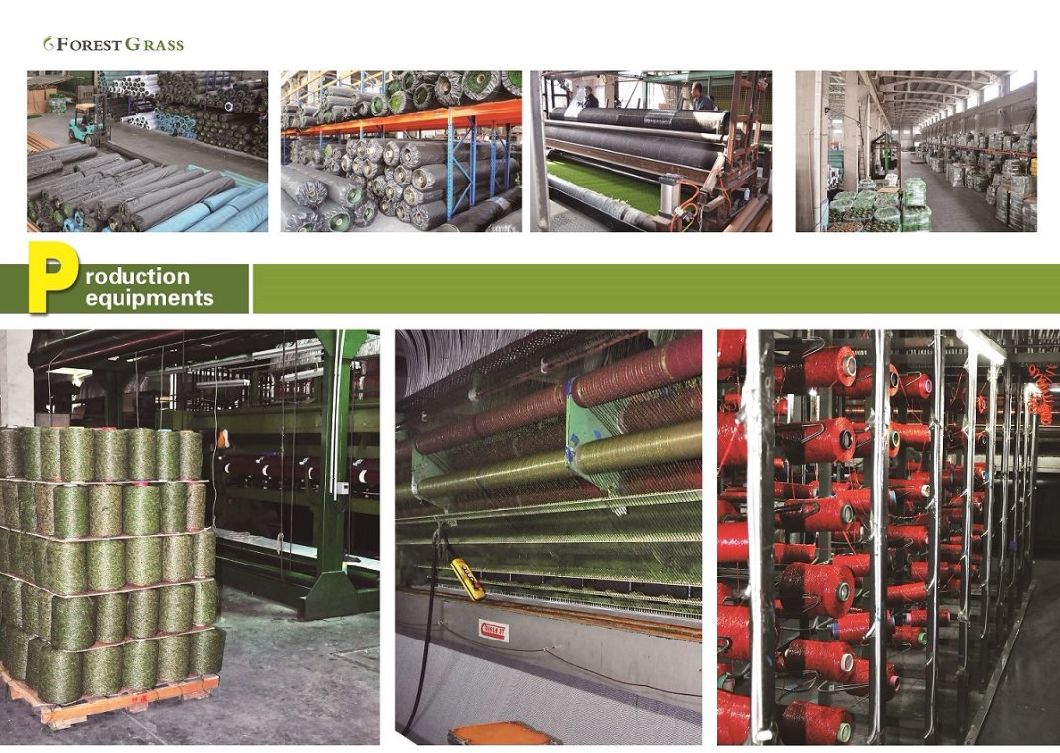 Package&Shippment:
1. The packing must be rolled on the cardboard core tightly and neatly. In this way, grass can keep good shape during the transportation, won't be wrinkled or damaged.
2. Packed in roll - coverd with PE film or PP bag outside, color can be customised.
3. Roll wideth can be 4m/ 2m/ 1m, length can be 20m-70m according to different grass, our regular roll size is 4m x 25m (100sqm) and 2m x 25m (50sqm)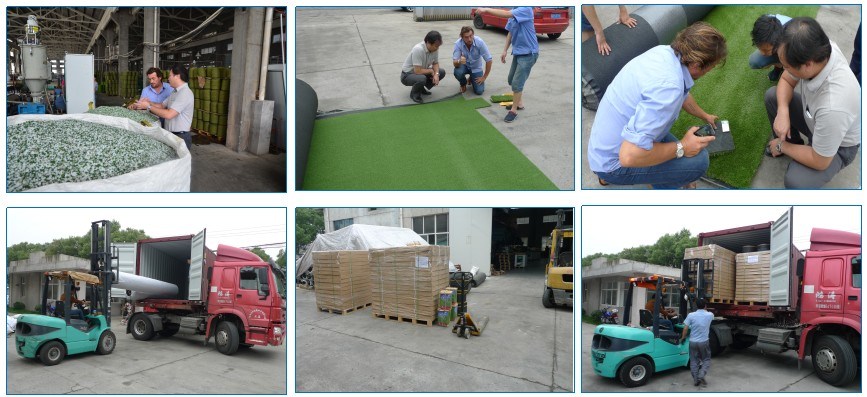 FAQ:
1,Where can I use this grass ?
A: Artificial grass is multifunctional, it can be used for sports like football, golf , soccer, futsal ... as well as landscaping, garden, balcony, school ....ect, you can use it as real grass to decorate anythere you want. For different usage, pls ask us freely for suitable recommendation.

2,How many years warranty I can get ?
A: It various from 8 to 15years for different quality level, we will take care of any problems during the warranty.

3, Why there are so many different pile height and how should i make choice ?
Pile is the term for the upright blades on synthetic turf. These can be cut at different heights (e.g. 40-
50-60 mm) according to different usages. Usually for football/soccer/futsal grass, we recommend with
45mm-60mm height; for landscaping grass and garden grass, 25mm-40mm; for wedding for some one-off
usage, 10mm.

4,MOQ and Loading infomation .
A:MOQ is 500 sqm, but trial order is also no problem for starting .
For 20GP - load approx 2200-2600sqm artificial landscaping grass, 4000sqm artificial football grass .
For 40HQ - load approx 4600-5000sqm landscaping grass, 7500sqm football grass.
Loading quantity is decided by grass specifications and packing ways.

5,Is it difficult to install artificial grass/synthetic grass/artifical turf ?
A:It's quite easy, we can provide you with full set accessories and professional guidance.

If you are not sure which type of grass to choose. Contact us, you will get our reply within 20 hours!!!